During the month of July 2021, Epix announced that production had begun on the third season of "War of the Worlds," which is based on H.G. Wells' infamous alien invasion novel and was created by Howard Overman. 
Even though a specific premiere date for the series' return has not yet been announced, it is expected to arrive on the streaming service sometime in 2022, bringing with it several familiar faces and storylines, as well as the introduction of at least a handful of new characters.
After all, the invading aliens from Season 1 turn out to be nothing more than genetically deficient (and rapidly dying-off) humans from the future, as Overman's story differs from Wells' in that way. 
In order to preserve their existence, they travel back in time to present-day earth and assassinate scientist Bill Ward (Gabriel Byrne) in order to prevent him from developing the virus that eventually sickens and weakens their "species" — which is, once again, human.
During the Season 2 finale, Bill himself travels back in time, but it is unclear whether his efforts to prevent the birth of a future "alien" race by destroying its original mother, Daisy Edgar-Jones' Emily, were successful. 
Despite the fact that the narrative and its characters are reset at the conclusion — implying that the aliens never make contact with earth and that Bill never has to create the virus weapon — questions remain, and at least one character continues to have visions of the invasion.
 For lack of a better phrase, it's your standard "someone must break the time loop" puzzle.
How will Season 3 deal with the ongoing "Terminator" meets "Independence Day" series, now that Emily is ostensibly dead, Bill has been arrested for her murder, and the aliens have vanished into thin air? Here's what we currently know about the situation.
What can we expect from War of the Worlds Season 3?
At this point, it is impossible to predict how Season 3 will unfold, though the press release from Epix, which was previously mentioned, does provide some hints as to what audiences can expect. 
Byrne will return as the series' reluctant and self-sacrificing protagonist, according to the announcement, which also includes newcomers Molly Windsor (from "Cheat"), Madeleine Worrall, Oliver Hembrough (from "The White Princess"), and Ernest Kingsley Junior, who will all join the cast. 
Despite the fact that Léa Drucker's determined scientist Catherine Durand is not mentioned in the press release, the series' IMDb page lists her as a Season 3 cast member.
 She, along with Byrne, is the only actor currently credited with more than 16 episodes of a single series (the first and second seasons contained eight each).
Neither Mathieu Torloting's Romeo Sacha nor Stéphane Caillard's Chloe have been confirmed to return, though given what we know (from other time travel series and films) about the difficulty of breaking a time loop, it appears to be a foregone conclusion that they will.
 Furthermore, according to Epix, Season 3 will begin with the beginning of yet another war between human survivors and invaders, with the former fighting against "an opposition more dangerous than ever" while a "terrifying phenomenon" has an impact on the Earth's population.
Daisy Edgar-Jones, the star of "Normal People," is currently working on two projects, both of which are in post-production, including a film adaptation of Delia Owens' "Where the Crawdads Sing" and a television series adaptation of Jon Krakauer's "Under the Banner of Heaven." 
However, unlike the majority of the "War of the Worlds" cast, she is not listed as appearing in Season 3. Having said that, her reappearance appears to be a distinct possibility, thanks to the paradox of time travel.
The Plot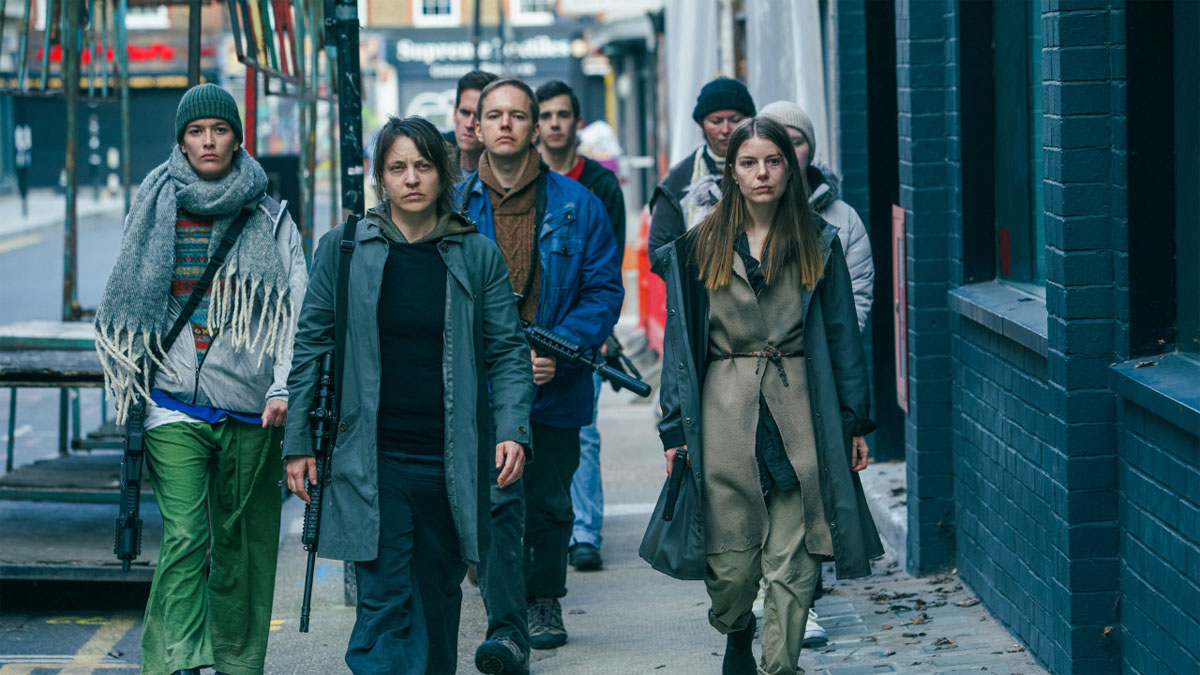 As soon as astrophysicist Catherine discovered evidence of life on planets other than Earth, she didn't even have time to bask in the glory of having finally discovered what she had been hoping for for so long. 
On the other hand, it is possible to dismiss the meteor showers as mere coincidence. However, they fell on all residential areas, leaving virtually no trace of their presence. Apparently, it was a closely guarded secret that didn't need to be revealed.
 It will take a long time for survivors and those who have been traumatized to recover from this surreal nightmare. They believe that cyborgs are lurking in the cities, ready to attack those who have survived. 
A large number of people are attempting to locate their relatives and determine what to do next. To be completely honest, many people do not understand the point of living in ruins and being constantly shaken by fear.
 These people are willing to submit and become enslaved because they recognize the superiority of the aliens.
War of the Worlds season 3 premiere date has been set
As of this writing, the myCANAL Channel has not announced what they will do with the television series "War of the Worlds." 
However, based on the final episode schedule, the third season of War of the Worlds could premiere on Monday, May 16, 2022, according to the official website.
The cast of War of the Worlds Season 3
On the television show, Gabriel Byrne played Bill Ward and Léa Drucker played Catherine Durand, who were the two main characters. Natasha Little (Sarah Gresham), Daisy Edgar-Jones (Emily Gresham), Ty Tennant (Tom Gresham), Bayo Gbadamosi (Kariem Gat Wich Machar), Stephen Campbell Moore (Jonathan Gresham), Paul Gorostidi (Nathan), Stéphane Caillard (Chloé Dumont), and Mathieu Torloting (Sacha Dumont) also star.
This new-life-connections.org post will show the information about: War of the worlds season 3
war of the worlds season 3 trailer

war of the worlds season 4

war of the worlds season 3 release date

war of the worlds season 3 cast

war of the worlds season 3 premiere date

will there be war of the worlds season 3

war of the worlds season 3 episodes

war of the worlds season 3 reddit
See more articles in category:
Games